The best part of awards shows?
the clothes. hands down.
I have a confession to make: I think these award shows are incredibly boring. After the opening act, I really only care about the big categories and I can find out who wins those online. My attention span is like that of a small child, I can hardly commit to a TV show during the commercial breaks, let alone three hours of decisions that could realistically take 5 seconds to announce.
but the clothes....ohhhh the clothes. Best dressed, worst dressed, and everything in between...now THAT is captivating television.
Around the world today bloggers, newspapers, and celebrity gossip hounds are giving their two cents on everyone's outfits. Anyone who knows me well knows that I will always give my two cents, sometimes it's more. Sometimes I'll give you the whole dollar's worth and that's when I really get myself into trouble. I tried to get Joan Rivers to join in on the celebrity bashing I'm about to commence in, but she is busy running her own show about it.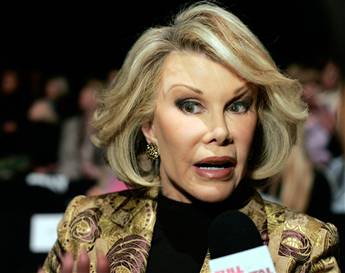 Fine, Joan, don't join me. It's cool. Your face scares me anyway.
First up:
January Jones
Oh, Mrs. Draper!
What happened to you
!? January Jones, you and I are going to have a serious discussion here. I am so concerned by your style decisions this evening. Are you not feeling well? Is that why you couldn't be bothered to brush your hair before walking the red carpet? Your dress is a mess. It's like Madonna circa 1984, a 1950's housewife, and the cookie monster had a threesome and your dress is their illegitimate love child.
Lauren Graham
(I know you love her
Rachel
, sorry for what I'm about to say)
The commentary I'm about to spew on Lauren Graham's outfit will be spicier and more interesting than what she wore. Girlfriend's got a rocking body, why is she hiding it under all that fabric? Show a little skin Lorelai Gilmore, it's okay. I'm pretty sure Betty White took more effort into her appearance this evening than you did. and she's 88 years old. nuff said.
Kelly Osbourne
Believe it or not, I have nothing snarky to say here. She looks fantastic!!! Especially when you consider what she used to look like. Yikes! (okay so maybe a little snark)
But seriously....love the hair, love the dress, love the new figure. Keep it up Kelly. In fact, please take Courtney Love and Amy Winehouse out to a quiet dinner at a nice restaurant and teach them everything you've learned.
Heidi Klum
I could wax on poetically for hours on the perfection that is Heidi Klum. She can do no wrong in my eyes. She's had like 10 babies in the past 5 years and there is nary a mom jean or mom haircut in sight. Normally, I'm not a big fan of short dresses for such a big event, but when you've got legs like hers, it'd be a crime to hide them. Plus, she's got my entire college tuition and first house payment dangling around her neck, so that helps.
Mindy Kaling
No. Just NO. no. no. NO!
Claire Danes
A million other websites are already praising her as best dressed and I have to agree. She looks a-mazing! Sometimes less is more (ahem, Mindy Kaling, I'm talking to YOU!) She certainly has come a long way from her "My So-Called Life" days. Jordan Catalano digs it.
(source)
<-- aren't you proud of me for actually labeling my source for once instead of just blatantly stealing photos from google images? I figure if I want to be a legit blogger, I need to start acting like one. Next step, improving my grammar (but don't hold your breath).